Justine Dupont – Professional surfer
The female surfer of all records
Justine lives between Seignosse in France and Nazare in Portugal.
3x Vice World Champion in 3 differents divisions of surfing, multiple National and European surfing and longboarding champion, Justine is above all passionate about the ocean and the nature.
This young 27 years old lady loves adventure and challenges.
In 2019, she is designated "Best female Big Wave Surfer of the Year".
Since 2018, Justine is elected "Chair of the Athletes Commission of the International Surfing Association.
She has repeatedly surfed some of the biggest waves surfed by a woman.
Her career is booming and the personality of this young woman arouses a lot of interest.

Portfolio

A solicited surfer
Justine never ceases pushing her limits in the biggest waves of the world in Nazare, Portugal.
In 2019 the webserie "The Quest" is relating her adventures during the winter.
In 2018, after an intense winter Justine was everywhere on national and international TV.
Justine ended several times first of the Ride'O Meter ranking which (when it existed) referred surfers and extreme sports practitioners by their media release over the year.
She was also part of the top women of the year by Elle magazine.
She now has more then 125K followers on her Instagram.

A Waterwoman
Justine is considered the most versatile surfer in the world.
She's a Waterwoman.
Justine is Vice World Champion in 3 differents disciplines of surfing : Big Waves Surfing, Stand Up Paddling and Longboarding
She has been on several occasions ranked in the World top 3 in Longboard, she has also been part of the world surfing elite, the WCT.
She is considered one of the best surfers of big waves in the world, she is also one of the best in Stand Up Paddle.
Justine's training includes freediving, swimming, bodysurfing, physical training, paddle board and, of course, surfing.

An extreme surfer

Justine enjoys surfing big waves.
She has surfed spots like Belharra (Basque Country), Aileens and Mullaghmore (Ireland), Mavericks (California), Jaws (Hawaii) and more recently Nazare (Portugal).
In 2019, she has won multiples XXL Awards which reward the best big waves surfers of the year.
Justine surfed several times waves considered as the biggest waves surfed by a woman in the world.
In 2013 she became the woman to have surfed the biggest wave in the world by taming a monster of more than 15 meters on the famous spot of Belharra, France.
In 2016, she became Vice World Champion of big wave surfing at Jaws, Hawaii.
Between 2017 and 2018, Justine impresses the surfing world with her ease on the famous spot of Nazare, Portugal surfing some of the biggest waves of the world.

Conferences & workshops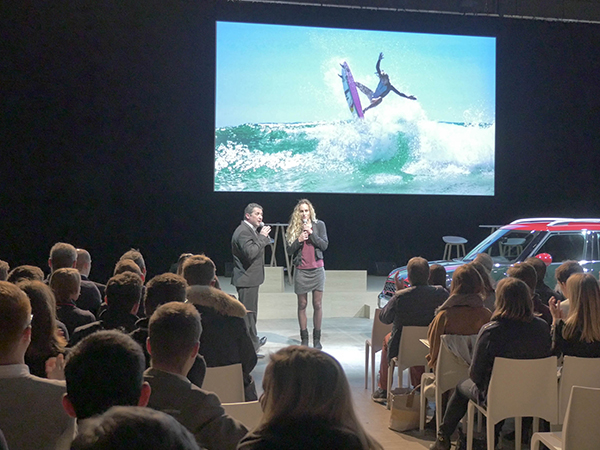 Justine frequently intervenes to share her experience. Her life as a top athlete and her practice of an extreme sport such as big waves surfing leads her to talk about different themes :
stress and emotions management
fear management
setting goals
management of failure
team work
communication
the place of a woman in an essentially male environment
…
Natural and accessible, Justine is comfortable to express herself with simplicity on these topics that affect us all. She enjoys answering all the questions that are put to her at the end of her interventions. They have already appealed to her :
Eurosima, groupes immobiliers, banques, écoles, universités, Think +, BMW, Mini, Smart Grid, Forums, salons, Taylor Wessing, Nazaré, Région Aquitaine …

Projets & Challenges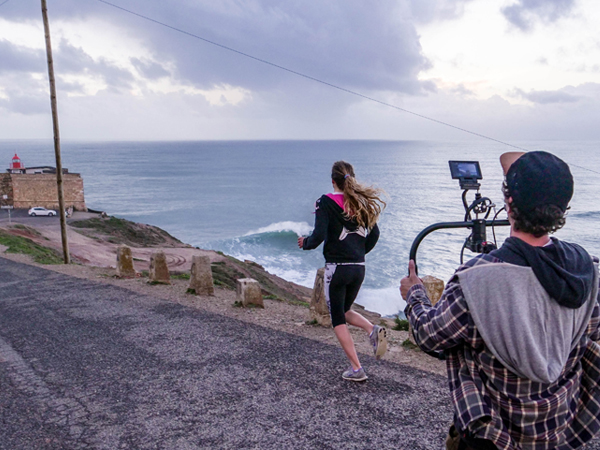 Up coming films
Justine is frequently asked to participate in various documentary projects, reports and films.
In 2019 the webserie "The Quest" received a great success.
The serie is relating her adventures during the winter between Nazare, Hawaii and France.
Her unique profile and outstanding performances are highly appreciated by to the public.
.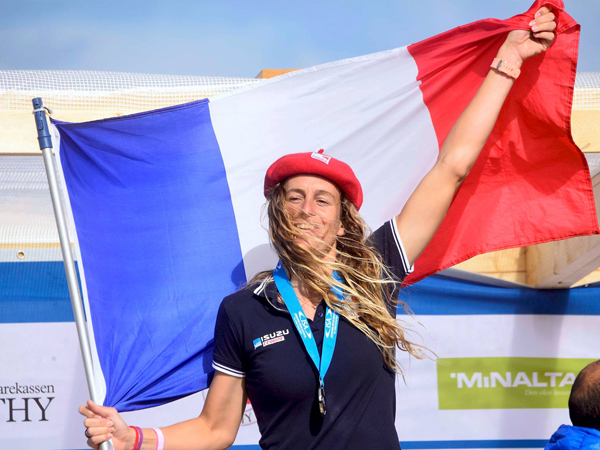 Olympics 2020
With the appearance of Surfing at the 2020 Olympic Games, Justine will have at heart to be part of the party for this world premiere.